Feast your eyes on some of the world's most sought-after, rare and beautiful vintage perfume bottles up for sale in Perfume Bottles Auction 2019, as we take a close look at highlights from their just-published catalogue…
Since 1979, organiser and founder of The Perfume Bottles Auction, Ken Leach, has been working 'to create public and corporate awareness of the artistry to be found in vintage perfume presentation.' His antique shop's show-stopping merchandise 'has served as a source of inspiration for glass companies, package designers, and celebrity perfumers, before ultimately entering the collections of perfume bottle enthusiasts around the globe.'
The Perfume Bottles Auction will take place on May 3rd 2019 in Itasca, Illinois, but we are delighted to share with you a sneak-preview of some of the most important and appealing items that will be up for auction, along with their estimated prices. The Perfume Bottles Auction organisers are very kindly allowing us to see these images which they have not yet made available on their own website.
So which, we wonder, would you lust after the most…?
1920 Deluxe limited-edition, Rene Lalique for Volnay Ambre de Siam frost glass perfume bottle, pearls motif, oversized openwork stopper of maiden framed by thorny bramble. Molded R. Lalique on stopper. 4 3/4 in. $15,000-18,000
1912 Rene Lalique for Maison Lalique 'Fougeres' (Ferns) perfume bottle and stopper, clear/frost glass, overall fern pattern, blue/green patina, the bottle faces molded with 2 deep wells which meet on the interior, each set with a 24 carat gold foil-backed jewel molded with art nouveau female images which reflect light. Lalique script mark.
Detail of Fougeres bottle – Both female images and the fern motif appear in three separate Rene Lalique jewelry designs c1900. 3 3/4 in. $5,000-6,000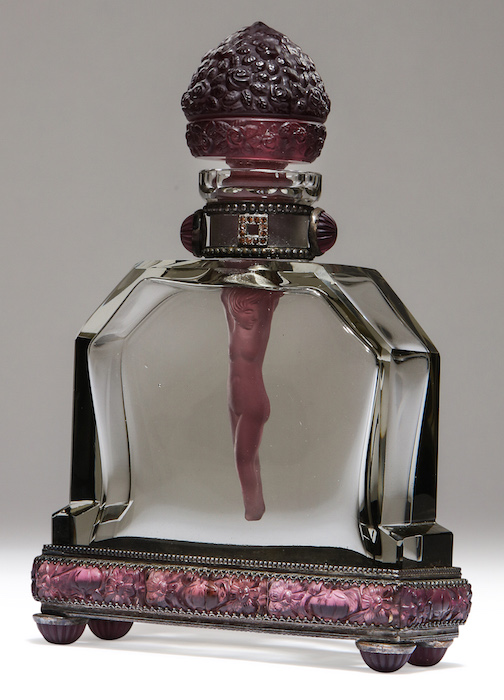 1920s Czechoslovakian, Hoffmann 'Nude-Dauber'– smokey grey crystal perfume bottle, purple frost crystal figural dauber-stopper, pewter colored metal mounts set with purple jewels and feet. Metal marked Austria. 6 in. $5,000-7,000
1940's Deluxe presentation for Dana Tabu clear glass bottle, luxurious openwork sterling silver overlay over all, including replica of label, silver screw cap. 925 Silver mark, silversmith mark. 6 1/8 in. $3,000-4,000
1948 Elizabeth Arden On Dit clear/frost figural perfume bottle and cover, stopper (flea bites), gilt tassel, box. *Interior paper same Rene Bouche graphic design used on box exterior of limited edition issued Christmas 1944. 4 1/4 in.
1946 Parkdale Perfumers Deanna Durbin- Smart Girl clear glass cologne bottle, molded plastic "portrait" screw cap, fabric, box. *Released with popular movie "Three Smart Girls." 4 1/4 in. $100-200
1920 Georges Duchesne for Galeries Lafayette 'Terre de Retz' large paper mâché powder box, polychrome lacquer. 7 1/2 in. $300-400
We cannot urge you enough to go and browse through their website – and get ready to swoon at the sheer artistry and invention of these scent bottles, and perhaps wish that such delights were still being made, today.
For full-on enthusiasts, the print catalogue is available to buy for $55 USA/$69 Outside USA – so at least if you don't manage to bid on these beauties, you can gaze at them forever whenever your heart needs lifting.
Written by Suzy Nightingale