Dominique Ropion has long been thought of as a Master Perfumer, but now can officially add the title to his name having been bestowed that honour by IFF (International Flavors and Fragrances) – incredibly, only the second perfumer to be recognised with this title since 2013! It shows how seriously they take this award, for it's a title that's bandied around by many but truly earned by few.
'At the heart of IFF are the people who consistently go above and beyond to passionately pursue their art and by doing so, revolutionise the industry,' IFF chairman and CEO, Andreas Fibig enthused. 'In his 17 years with us, Dominique has consistently achieved this outstanding level of creativity and passion for his art and our customers. We congratulate him on his many achievements – as we look forward to his future successes.'
'Many achievements' in fact seems something of an understatement when you see the panoply of perfumes he's been responsible for – composing or co-creating fragrances for so many brands across the board it begins to look like something of a directory: from Frédéric Malle, Yves Saint Laurent, Christian Dior, Thierry Mugler, Lancôme, Givenchy, Issey Miyake, Paco Rabanne and through to the Body Shop, to name but a few.
Many of these creations have gone on to be global best-sellers, and we've certainly had the majority on our dressing tables over the years, so which of these (now official) five masterpieces have you tried so far…?
Absolutely deserving of the moniker 'modern classic', a scent that makes you smell instantly put-together and somehow even stand taller. The decadent Turkish rose is rippled through with blackcurrant, raspberry and clove, nestling on a bed of patchouli that sighs into silky sandalwood punctuated by wisps of frankincense. Sublime, a must-sniff!
Frédéric Malle Portrait of a Lady £158 for 50ml eau de parfum
Buy it from fredericmalle.co.uk
Exotically seductive, this huge-hitting ambrée helped define an era with spicy clove dappling the heady jasmine, ylang ylang, Egyptian rose and iris bouquet, and an amber-speckled, Tahitian vanilla base that leaves a trail ensuring you'll never be forgotten.
Givenchy Ysatis from £26.99 for 30ml eau de toilette
Buy it at theperfumeshop.com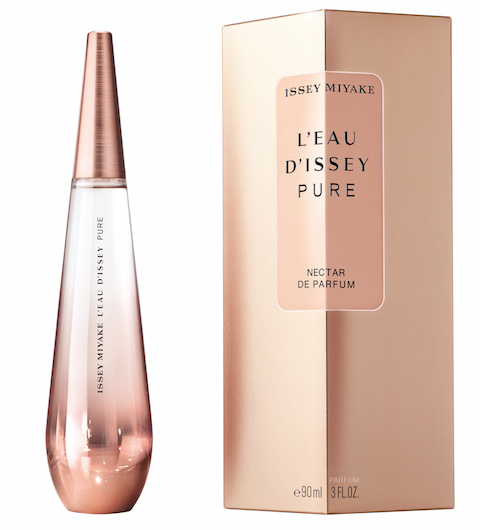 In this recently released third opus for the house, pear, rose (something of a signature for Ropion is his exquisitely refined handling of roses) and an aquatic accord melt seamlessly to a fluffy base of cashmeran, amber and sandalwood. Utterly wearable and quietly perfect for every day.
L'Eau d'Issey Pure Nectar de Parfum £62 for 50ml eau de parfum
Buy it at boots.com
A stunner of a scent, it's buxomly bold enough for the original Alien (also a Ropion creation with Laurent Bruyere) fans, but with oodles of creamy wooziness amidst the jasmine, heliotrope, myrrh and cashmeran wood. Even refuseniks of the fabulously rambunctious Mugler creations have been converted.
Thierry Mugler Alien Essence Absolue £56 for 30ml eau de parfum
Buy it at mugler.co.uk
Ropion collaborated with fellow IFF perfumers Anne Flipo and Loc Dong for this sheer and salty swoon of 'your skin but better' type scent, with juicy, green citrus sashaying its way from a zip of ginger to the unctuously addictive salted vanilla base.
Paco Rabanne Olympéa £44 for 30ml eau de parfum
Buy it at superdrug.com
If you want to explore more of Dominique Ropion's creations, have a browse through some of our previous interviews with him, and search our huge database of scents to learn more…
But how did a childhood convalescence in the mountains lead to Ropion becoming one of the greatest ever perfumers? Read on to find out if not all his scented secrets, then at least to gain a very good idea as to what makes this Master Perfumer tick.
What is your first memory of fragrance?
Dominique Ropion: 'When sniffing chalk, my childhood school opens its door again. I smell ink, or paper glue, typical scent memories of French lower class schools, and my school playground appears, the games… My memories are scents. It is with the scents of guimauve (a typical French marshmallow) infused with lemon or orange flower that I took my first steps. They bring me back to the mountains, a landscape where I was reborn when I became conscious of my need to smell. I was 7 years old, was a young city boy exiled in the mountains as I had gotten very sick. I would stare at my bedroom ceiling looking for comfort, and spent the rest of my time inhaling mountain air and fresh field scents. I had been advised to breathe in as much as my lungs could take it, I did so, breathing in scents of heights. That's how I became accustomed to smelling the world as if my life depended on it.'
 What was your first job in the fragrance industry and how old were you?
'I owe my education in fragrance to luck, which found me an internship at Roure as I was studying physics at university. I started with a 3 year academic training followed by 3 years of on the job training to become a perfumer. I will always remember my perfume "first time". As I was a very young perfumer at Roure, one of the ideas I had been working on was selected to be presented amongst other works to the then President of Givenchy, Jean Courtiere. My fragrance was selected, and in 2 weeks, it was finalised. This became Ysatis. I call it beginner's luck.'
Aside from becoming Master Perfumer at IFF, tell us about another career highlight…
'Each new creation is a career highlight. I've been very lucky that I've worked for many prestigious brands, as well as for small and unknown brands or projects. Each time, I find an angle to spike my interest.'
What fragrance did you enjoy creating the most at IFF and why?
'All of my fragrances are journeys, encounters, adventures. I can't say there's one that I enjoyed more than others. Each new creation teaches me something: about myself, about the ingredients I use, about the people I meet when creating. Of course I'm proud about the market successes I contributed to creating, but it's definitely not my only criteria of "enjoyment". Some of my creations I did alone, some with colleagues, some lasted years to finalise, some just a few months…'
When you begin designing a fragrance, where do you start? What process do you normally follow?
'Since I left perfumery school, I've been obsessed with finding the perfect balance, like a tightrope walker. For each creation, I look for the perfect balance between each ingredient I carefully select to combine. This tightrope walker number may seem absurd, but I genuinely believe this is how I create, risking a fall with each new ingredient I add to the formula. To combine them, the perfumer has no alternative: he needs to start walking on the rope. It's a very hands on job: a perfume requires hundreds and hundreds of trials… It's a precision job.'
Where would you recommend a person begins if they want to become a perfumer?
'At IFF, we have an internal perfumery school. Training the perfumers of the future is one of the aspects of my job I'm particularly passionate about. Some of the perfumers I have trained have become recognised and highly demanded ones, some are just starting their career. They all have very different personalities, but what characterised them all is of course their passion for scent, their curiosity for all ingredients, and some necessary qualities: resilience (bordering obstinacy), patience and a sense of details (borderline obsessive). It also requires very good listening skills, necessary to understand what brands desire, as we perfumers don't create for our own sake, like artists would: we create in the world of brands, and all our creations are an encounter with the brands developers.'
What are the next big trends in fragrance in your opinion? 
'The next big trend really depends on the next big success… I can never explain the success of a perfume, I can only witness it. Each step of the way, I always feel like I've achieved a perfect balance, but I can never guess the public's reaction. The success of a fragrance is always unpredictable. My next fragrance may set a big trend… or may not! Of course I'm always happy when it does, but I can only humbly say that there's a perfumery magic I cannot explain.'
 Original interview supplied by IFF, written by Suzy Nightingale