Oscar de la Renta loved women. 'I have six older sisters, so I've been spoiled all my life,' the designer – born in Santo Domingo – once told The Perfume Society's Jo Fairley. 'Nobody could have wished for more support and help from any group of women. So of course, I've paid them back in clothes. But more importantly, in love…'
This love always shone out of Oscar de la Renta's designs. According to Anna Wintour, Vogue editor-in-chief, 'Everything Oscar does is feminine, romantic and appropriate.' And it's been some career. He left his native Dominican Republic at the age of eighteen, to study painting at Madrid's Academy of San Fernanda.
He became fascinated wtih the world of design, and began sketching for leading design houses – which led to an apprenticeship with the great couturier Crístobal Balenciaga, in Spain. From there, he moved to Paris, becoming couture assistant at the House of Lanvin. And then on to New York, to design the couture collection for Elizabeth Arden.
Always charming, handsome, tanned and with fascinating stories to tell, he charmed New York and became one of the 'Beautiful People', himself. (In his time, he's been known as the 'Guru of Glamour', and the 'Sultan of Suave', according to Vogue.)
Diana Vreeland, then editor of Bazaar, talent-spotted him and 'made my career, in a way – but became a great friend, too.  When I arrived in America I also became very good friends with (socialite) C.Z. Guest, who was married to Winston Guest, and one of America's great beauties,' Oscar de la Renta told Jo. 'Until I got married, I had a room at her house and spent practically every weekend there. That's where I met the Duke and Duchess of Windsor, and got to know the Duchess very well. She was really fantastically well-dressed. And it wasn't just access to great clothes: I know a lot of women who wear a grey skirt and a grey sweater and are a lot better-dressed than women who spend a fortune. It's to do with having a sense of yourself – and it all starts with good grooming.'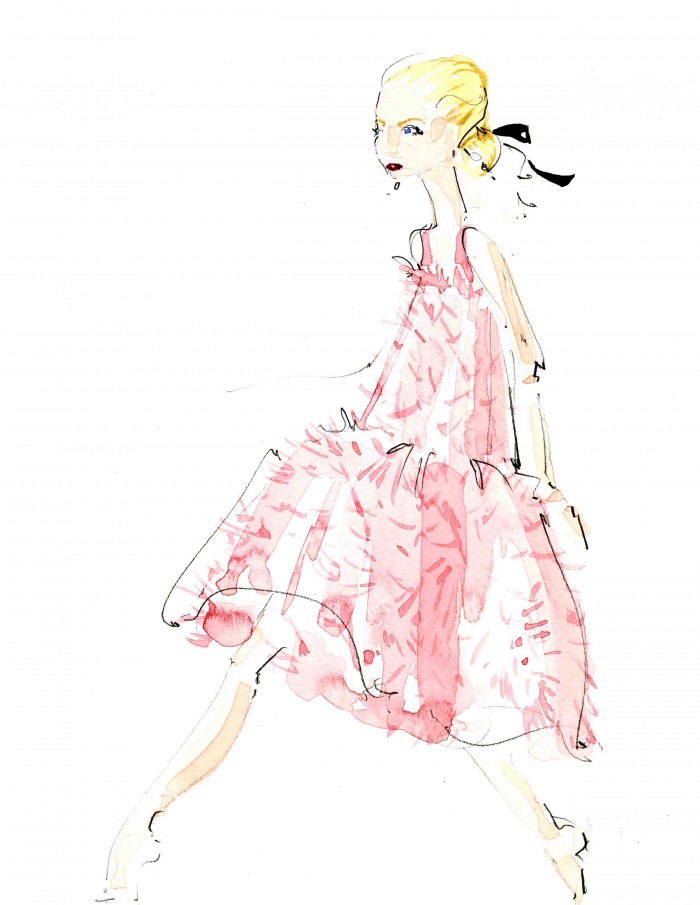 His designs married Old World craftsmanship with modernity ('I don't know how to do casual clothes,' he once told WWD). There's a definite Latin flair to many of his clothes: a frill here, a flamenco flounce there, often in vibrant colour – but always sublimely elegant.
His talent won Oscar de la Renta a raft of awards: among many others, the Council of Fashion Designers Designer of the Year award in 2000 led on to a Lifetime Achievement Award. The Dominican Republic has recognised him as one of the country's most distinguished citizens while France awarded him the French Legion d'Honneur, as a Commander. (For almost 10 years, in addition to his own collections, Oscar de la Renta designed the couture for the house of Balmain.)
It allowed Oscar de la Renta to enjoy a luxurious lifestyle, amidst fascinating people, in glorious settings. But, 'having invented his ideal life, Oscar de la Renta now delights in sharing it,' observed Georgina Howell, of Vogue. Raising money for charity has been part of his life: in 1982, he co-founded La Casa del Niño, a refuge for underprivileged Dominican children; he's helped to build a school and day-care centre for 1200 children near his holiday home in Punta Cana, and has been a board member of New Yorkers for Children.
And what about perfume…?  'A fragrance is a kind of magic that flirts with the senses and suggests passion and desire: it is invisible but extremely present,' is Oscar de la Renta's perfume philosophy. And since the launch of OSCAR, in 1977 – an abundant floral bouquet, with the softest woody accents – he's been enhancing women's femininity in the most fragrant way.
Today, there are many deliciously different ways to 'spoil yourself with fantasy', as Oscar de la Renta has also described the luxury of wearing perfume. To help create Esprit d'Oscar, for instance, this so-charming man turned to his daughter Eliza – and the result's delightful: a sparkling floral Oriental, with fresh flowers – jasmine, tuberose and orange flower – at its heart, on a warm, long-lasting base.
More recently, Oscar de la Renta set out to share some of the smells and images which captured his heart, growing up in the Dominican Republic, and his years spent in Spain. Passionate, vibrant, evocative scents: the gorgeously shareable and wearable Santo Domingo, for instance, infused with the tobacco which flourishes on his birthplace island. Or Oriental Lace, using a flower almost unknown in perfumery: the Dominican hoya carnosa, which has elements of honey and bitter almond in its mysterious scent. You can be uplifted by romantic citrus Granada, its sweet scent of jasmine petals and exotic roses brightened by bitter orange, capturing amazingly the sense of Granada's Alhambra Palace, with its water-cooled gardens.
And for his 'bridal' scent, Something Blue, Oscar was inspired by beautiful white stephanotis flowers, plucked from his garden in the Dominican Republic. 'It is a flower that I grow in my garden myself. Not only is it beautiful, but it has a beautiful scent,' observed the designer, who sadly died in autumn 2014.
But as Oscar de la Renta told Elle magazine, 'Fragrance is an integral part of yourself. There is no better way, or a more intimate way, of telling people who you are, than with a fragrance. If one identifies with a fragrance, one should wear it all the time.'
At The Perfume Society, naturally, we couldn't agree more – and are pleased that this wonderful designer lives on, through his portfolio of stunning fragrances…
Fragrances
Please wait - loading perfume house fragrances...