Oscar de la Renta loved women. 'I have six older sisters, so I've been spoiled all my life,' the designer – who was born in Santo Domingo – once told The Perfume Society's Jo Fairley. 'Nobody could have wished for more support and help from any group of women. So of course, I've paid them back in clothes. But more importantly, in love…'
This love always shone out of Oscar de la Renta's designs. In the words of Anna Wintour, Vogue editor-in-chief, 'Everything Oscar does is feminine, romantic and appropriate.' And it was quite some career, with the designer working right up until his death in 2015.
He'd left his native Dominican Republic at the age of eighteen, to study painting at Madrid's Academy of San Fernanda. Oscar then became fascinated with the world of design, and began sketching for leading design houses – which led to an apprenticeship with the great couturier Crístobal Balenciaga, in Spain. From there, he moved to Paris, becoming couture assistant at the House of Lanvin. And then on to New York, to design the couture collection for Elizabeth Arden.
Always charming, handsome, tanned and with fascinating stories to tell, he charmed New York and became one of the 'Beautiful People', himself. (In his time, was known as the 'Guru of Glamour', and the 'Sultan of Suave', according to Vogue.)
Diana Vreeland, then editor of Bazaar, talent-spotted him and 'made my career, in a way – but became a great friend, too.  When I arrived in America I also became very good friends with (socialite) C.Z. Guest, who was married to Winston Guest, and one of America's great beauties,' Oscar de la Renta told Jo. 'Until I got married, I had a room at her house and spent practically every weekend there. That's where I met the Duke and Duchess of Windsor, and got to know the Duchess very well. She was fantastically well-dressed. And it wasn't just access to great clothes: I know a lot of women who wear a grey skirt and a grey sweater and are a lot better-dressed than women who spend a fortune. It's to do with having a sense of yourself – and it all starts with good grooming.'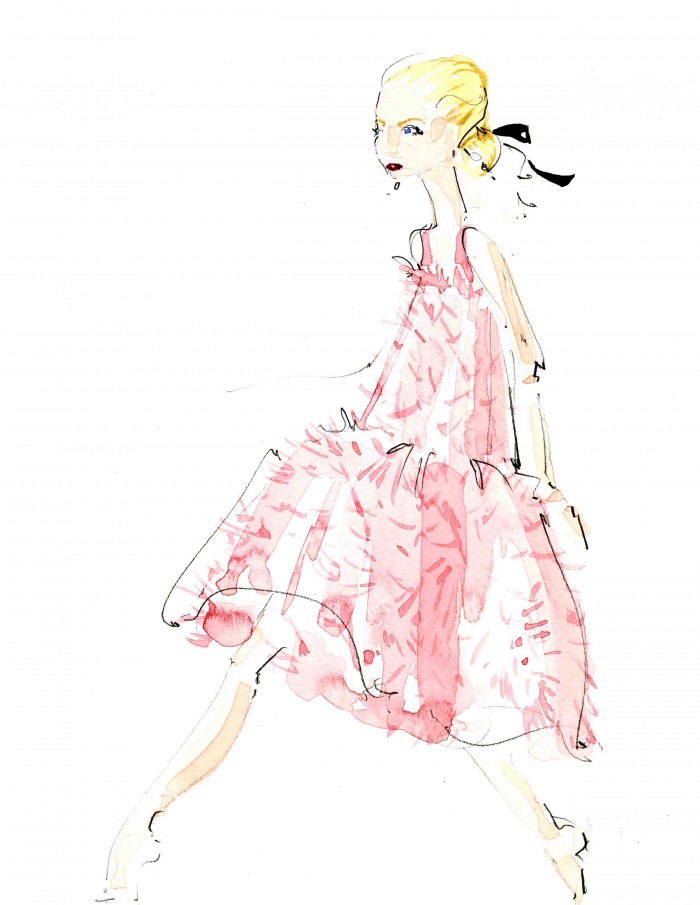 Oscar de la Renta designs famously marry Old World craftsmanship with modernity ('I don't know how to do casual clothes,' he once told WWD). There's a definite Latin flair to many of the label's clothes: a frill here, a flamenco flounce there, often in vibrant colour – but always sublimely elegant. (Amal Clooney wore Oscar de la Renta for her wedding. Which tells you everything about its glamour factor.)
And at the house of Oscar de la Renta, happily that spirit is safeguarded: two former design team members, Laura Kim and Fernando Garcia – who'd left after the designer's death to found their own label, Monse – have now returned, to take up the reins.
His talent won Oscar de la Renta a raft of awards: among many others, the Council of Fashion Designers Designer of the Year award in 2000 led on to a Lifetime Achievement Award. The Dominican Republic has recognised him as one of the country's most distinguished citizens while France awarded him the French Legion d'Honneur, as a Commander. (For almost 10 years, in addition to his own collections, Oscar de la Renta designed Balmain's couture.)
But – importantly for us – what about perfume…?  'A fragrance is a kind of magic that flirts with the senses and suggests passion and desire: it is invisible but extremely present,' was Oscar de la Renta's perfume philosophy. And since the launch of OSCAR, in 1977 – an abundant floral bouquet, with the softest woody accents – this man achieved in enhancing women's femininity in the most fragrant way. As the late, great designer once told Elle magazine, 'Fragrance is an integral part of yourself. There is no better way, or a more intimate way, of telling people who you are, than with a fragrance. If one identifies with a fragrance, one should wear it all the time.'
At The Perfume Society, naturally, we couldn't agree more – and are pleased that this wonderful designer lives on. Because perfume, as we all know, is a kind of immortality…
Fragrances
Please wait - loading perfume house fragrances...