Who can lay claim to being 'the birthplace of perfumery'? France and Italy regularly duke it out for the title, but British scents have been going strong since 1730 – with whispers of Yardley London's heritage in fact going all the way back to the reign of King Charles I, supplying royalty with lavender-scented soaps. Sadly, these records were lost in 1666's Great Fire of London, but many British houses have archives bursting not only with records of their fragrant wares, but the customers who bought them – including royalty, film stars and prime ministers along with the many millions who flocked to their historic doors.

We chose to dedicate the latest issue of our award-winning online magazine, The Scented Letter, to these Best of British. (It's available digitally to V.I.P. Club Members as a membership benefit as well as in print form.)
The emphasis is on heritage houses who have made our name and are still some of our favourites to this very day, with a selection of newer houses mentioned – including Miller Harris, Angela Flanders, Ormonde Jayne and Floral Street – all of whom have their own boutiques, where you can visit to stock-up on their perfumes, both historic and ground-breakingly new. The streets of London may not be paved in gold, but they're filled with delicious perfumes…
To be frank, the feature was practically an entire book's worth of material, and we still didn't have room for every single one we'd have like to mention – which goes to show how many we have to be proud of. Also, we are thrilled that so many contemporary houses are continuing to fly that fragrant flag, being sold online and stocked in independent perfumeries that stretch the entire globe.
What better time, then, to continue our celebration of the diversity, ingenuity and creativity British fragrance houses display, and share with you a list of some contemporary houses your nose should definitely get to know…?
Born in England, graduating with a Chemistry degree from Oxford University, Ruth trained and worked as a perfumer in the 70s – both in the UK and Netherlands with Naarden International (which later became Quest and is now Givaudan – one of the largest perfume suppliers in the world…) Ruth then went to work in Japan and the perfume capital Grasse before returning to England to work for a small company, where she created fragrances for up-and-coming brands like Kenneth Turner and Jo Malone – including her Grapefruit candle. Setting up her own perfumery company, Fragosmic Ltd., in 2003 – the year she became president of The British Society of Perfumers, it was in 2010 that Ruth launched a capsule collection of scented products featuring her signature fragrance – RM – the first to use advanced micro-encapsulation technology in a scented bathrobe…!
Still creating bespoke fragrances for brands, Ruth's own fragrances allow her to bottle memories, she says, '…of childhood in England and America – chocolate cookies, fresh earth, blackberries… Of Holland – lilies, narcissus, hyacinth and salty sea air… Of France – orchids, roses and wild herbs… Of Japan – cherry blossom, lotus and green tea…' Believing that fragrance can uniquely move us, and with a wealth of knowledge at her fingertips; Ruth distills olfactory flash-backs into perfumes that everyone can enjoy and form their own, highly personal connections with. And with her latest, the sulty, smoking rose of Firedance, shortlisted for Global Pure Beauty and Fragrance Foundation Awards this year, we suggest you allow yourself the pleasure of connecting with them, too…
Quintessential scents Just launched, you can now indulge in a newly-chic box of emotionally uplifting scents. From the sparkling secret-garden fruitiness of Signature, through the romantic, rolling landscape of Umbria captured in Amorosa. A furtively-smoked Sobranie with notes of jasmine and cashmere evoke the dreaming spires of Oxford, while a classic rose is transformed with hot leather in Firedance, to become quite swaggeringly swoon-worthy. Have a chaise-lounge at the ready…

Ruth Mastenbroek Discovery Set £17.95 for 4 x 2ml eaux de parfum
Available now in our shop

If we live till we're 80, we have 4,160 tuesdays to fill, and so the philosophy of copywriter-turned-perfumer Sarah McCartney is: better make the most of every single one of them. Having spent years writing copy for other people's products, and writing for LUSH for 14 years, Sarah wrote a novel about imagined perfumes that make people happy, with such evocative descriptions that readers began asking her to make them. Ever the type to roll up her sleeves and take on a new challenge, Sarah explains she'd '…tried to find perfumes that matched what I was describing, and they still weren't right, so I set off on my quest to make them myself. I became a perfumer!'
Proudly extolling British eccentricity, the ever-increasing fragrances include Sunshine & Pancakes, which Sarah made to evoke a typical 1970s British seaside family vacation, opening with a burst of sunny citrus, with jasmine to represent sun-warmed skin – alongside honey and vanilla (the pancakes element). The Dark Heart of Old Havana is based on a 1998 trip to Cuba: brown sugar, tobacco, rich coffee, fruit, warm bodies, 'alcohol, exuberance and recklessness,' as she puts it. Maxed Out and Midnight in the Palace Garden were both shortlisted for the coveted Fragrance Foundation Awards 2016 in the 'Best Indie Scent' category, and an army of devotees now relish every day, scented suitably eccentrically.
Quintessential scent  Named for a comment made by a Tatler beauty editor who smelled it, a dash of bergamot, a soft hint of creamy vanilla, velvety smooth woods, musk and ambergris make for a dreamily decadent 'your skin but oh, so much better' affair. Like wearing a magical potion made of lemon meringue pie and fancy pants, if they don't fall at your feet after a whiff of this, they aren't worth knowing.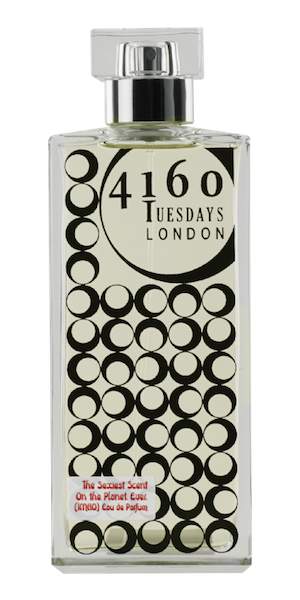 4160 Tuesdays The Sexiest Scent on the Planet Ever (IMHO) £40 for 30ml
Buy it at 4160tuesdays.com
Pssst! Breaking news: Fans of 4160 Tuesdays are a passionate lot, and kept asking Sarah when her next crowd-funded fragrance would be available, and so she's teamed up with James Skinner, founder and designer at Dalliance & Noble, to make a matching scarf and perfume.
The fragrance is a soft, rich, lavish blend of iris, hay, honey, apricot, tobacco, vanilla, lily, almond, sandalwood and bergamot, and as we love scenting our scarves with perfume, we cannot wait to try this one!
They met in 2017 at the artisan trade show Best of Britannia in Brick Lane, then regrouped in Sarah's 4160Tuesday's West London studio to choose natural and synthetic materials. The result was a collection of aromas which Sarah took as inspiration for the fragrance, and she named it Truth Beauty Freedom Love, the rallying cry of the 19th Century Bohemian movement or artists, writers and free thinkers.
James illustrated the plants which the natural essential oils came from, and the wildlife they support. In the corners of the scarf he's placed the aroma molecules which cast a perfumer's spell on the blend to transform it from just a mixture of materials into an elegant, wearable fragrance. He designed the scarf in two colourways, and named it Eden's Garden – a haven for fruit, flowers and wildlife.
Crowdfunding prices:
100ml eau de parfum and silk scarf £175 (will be £300)
100ml eau de parfum £75 (will be £150)
30ml eau de parfum £40 (will be £75)
Get in on the action here – but hurry, there's only twenty days left to secure these special prices!
Nancy's background as a bespoke perfumer began with her apprenticeship to one of the UK's experts in custom perfumery, creating signature scents for those coveting 'something highly individual and special…' Before launching Nancy Meiland Parfums, her decade-long journey through fragrance had already included co-running the former School of Perfumery, acting as a consultant for independent perfume houses, working on collaborations with Miller Harris, and speaking on the subject of fragrance at events nationwide.
Now dividing her time between town and country (Nancy's based in East Sussex), she explains that 'the creative process of gathering sensory impressions and honing them into a formula is a vital one. Once a blank canvas, the formula sheet acts as a metaphor – and gradually emerges essentially as a kind of poem, with body, light and shade and a life of its own.' It amuses Nancy, looking back, that she often had school essays returned to her emblazoned in red pen for being "too flowery". 'It figures!,' she says. Thank goodness, say her extensive base of fragrance fans, in love with these portrayals of often traditional ingredients, composed with elegant modernity and beautiful harmony.
Quintessential scent  Definitely not your grandma's drawer-liner, this is a rose in all its glory, with the entire plant evoked – pink pepper, for the thorns, stalky green galbanum for the leaves; geranium, jasmine, white pear and violet delicately sketching the tender bud. As Nancy observes: 'I wanted to depict both the light and the dark shades of it, as opposed to this pretty, twee and girly rose that's become slightly old-fashioned." Rambling roses entwined with brambles, if this scent surrounded Sleeping Beauty, she'd never forgive that meddlesome prince for cutting it down…
A rising star of perfumery, Marina Barcenilla is one of the talented 'noses' driving the strong trend towards natural perfumery. As the name may suggest, her birthplace may not have been in the UK – in fact she was born in Spain – but it's where Marina chose to make her home, and to set up her now thriving perfume business. Marina recalls being intrigued by the aromatic notes in the Herbíssimo fragrances and in her grandmother's lavender water.
Having always been fascinated and inspired by scent – when the chance came to branch out from her aromatherapy roots into the world of perfume, Marina rose beautifully to the challenge. In 2016 Marina won the coveted Fragrance Foundation (FiFi) Award for Best New Independent Fragrance with India. Against incredibly stiff competition, judged blind by Jasmine Award-winning journalists and bloggers, this prompted her to take the next step on her journey; her company – formerly known as The Perfume Garden – became Marina Barcenilla Parfums. But although the name had changed, the ethos remained the same – 'to create the finest fragrances, using what nature has to offer.' More awards followed, including a Beauty Shortlist Award for Patchouli Clouds, an International Natural Beauty Award, and the Eluxe Award for Best Natural Perfume Brand.
In 2017, for the second consecutive year, Marina won Best New Independent Fragrance for the opulent Black Osmanthus – which truly put her on the radar of journalists and perfumistas. From sourcing rare and precious aromatic essences from around the world to blending fragrances by hand in her own perfume studio, after years of study, Marina's long-awaited olfactory journey to 'rediscover the soul of perfume' is off to a rousing start – and all from the suitably mystical base of Glastonbury. More than simply reaching for the stars, parallel to her perfumery career she's also studying to become a Planetary Scientist and Astrobiologist, at the University of London; recently combining her twin passions by creating AromAtom – creating the imagined scents of space as a way to make space science more engaging for children – which Marina regularly tours through schools. What else can we say for this exciting house, but 'up, up and away…!?'
Quintessential scent  Silky-smooth sandalwood is enticingly laced with flecks of fragrant cardamom, dotted with coriander, huge armfulls of rose and woven with incense for an all-natural scent that's soothingly spiced, earthily grounding and yet erotically tempting; so you'll be wanting to dance barefoot (perhaps comletely bare) and wrap yourself around a Maypole, have no doubt…

Marina Barcenilla Parfums India £130 for 30ml eau de parfum
Buy it at mbparfums.com
Rarely do founders of fragrance houses come with such experience, passion and dedication to the industry as Michael Donovan. With a career thus far helping stock the shelves of such cult fragrance-shopping destinations as Roullier White, running his own PR company, representing such luminaries as Fréderic Malle – every time we've met Michael, he's been bubbling with enthusiasm about a perfume we '…absolutely must smell!' or a nose who's 'a complete genius!' And you know what? He's always been right.
He'd been badgered for years by fragrance experts and enthusiasts alike to launch his own range, but the idea had tickled his brain for some decades before being fully explored as a reality. As Michael explains, the concept he just couldn't let go of was to have a collection that truly represented 'scents as complex as you are.' And so, the St Giles fragrances have '…been created to stimulate and amplify the many different aspects of our character. This wardrobe of fragrances celebrates the parts that make us who we are, fusing the reality and the fantasy.'
And the nose he sought out to compose them just happens to be one of the greatest of our time. 'The perfumes are made in collaboration with Master Perfumer Bertrand Duchaufour, whose vision I have long admired and whose friendship I cherish.' Having spent many years working alongside Bertrand, but always in regard to his work for other houses, Michael admits he was '…extremely nervous' about approaching him, but it turns out Bertrand was more than enthusiastic in his acceptance. The only question you need ask, now, is which fragrant character you want to embody, today…

Quintessential scent  Rosemary absolute – now proven to stimulate memory performance – adds an aromatic, drily green note while fresh ginger warmly fizzes alongside Champagne-like aldehydes, herbaceous clary sage and the uplifting, fruity zing of rhubarb. There's a sigh of soft leather and frankincense at the heart, slowly sinking to the inky-tinged base of castoreum absolute, sandalwood, Atlas cedarwood and a salty tang of driftwood. Absolutely unique, you'll want to cover yourself in it while seeking your muse, perhaps while enjoying a sip or three of something refreshing, wearing nothing else but a velvet smoking jacket and an enigmatic smile…
St Giles The Writer £130 for 100ml eau de parfum
Buy it at stgilesfragrance.com
Recalling his childhood and growing up 'in fragrant surroundings,' Tom Daxon rather understates how perfume practically ran in his blood. Lucky enough to have a mother who was creative director at Molton Brown for over 30 years, and therefore 'would often give me new shower gels to try, fragrances to sniff' his scented destiny was sealed by frequently accompanying his mother on her business trips to Grasse.
There he met the father-daughter duo of Jacques and Carla Chabert, who'd variously worked for Chanel, Guerlain and L'Oréal, with Jacques the nose behind Molton Brown's ground-breaking Black Pepper and Carla creating the hit follow-up, Pink Peppercorn. Having esteemed perfumers in his life from such an early age was a connection that would bravely – still in his twenties – lead Tom to launch a brand new British fragrance house. Clearly a chap who doesn't like to hang around when he's got a bee in his bonnet, by the end of that same year, he was already being stocked in Liberty.
Not a bad start, all things considered, and describing the impetus behind him starting his own line of fragrances, Tom says 'I wouldn't have bothered if I thought I couldn't offer something a bit different.' Uniquely intriguing, the entire range celebrates a luxurious kind of British modernity in their pared back, clean lines, the oils being macerated and matured in England for at least six weeks before they're bottled here. Harnessing Tom's Grasse connections but remaining resolutely British in their spirit, it's just the beginning for this exciting house.
Quintessential scent Lushly narcotic, it's a hyper-realistic big-hitter – like sticking your entire face in a buxom bouquet, the better to get another dose of its lascivious charms. Using traditional, headily feminine notes like lily of the valley, carnation, rose and oakmoss might have become 'vintage' or even a bit old-fashioned smelling in the wrong hands, but the Chaberts and Tom vividly evoke just-bruised, silky petals with a futuristic drama that never fails to shake you out of the doldrums.


Tom Daxon Crushing Bloom £105 for 50ml eau de parfum
Buy it at tomdaxon.com
With a strong heritage behind us, and many of those houses still not only surviving but thriving, it seems British perfumery is once again blooming with a fresh crop of forward-thinking (and often self-taught) perfumers shaking up the scent scene. No fuddy-duddy fragrances, these, they're flying the flag not only for British niche perfumery, but for the art of fragrance itself. Hoist the bunting!


For further reading, we suggest getting your hands on a copy of British Perfumery: A Fragrant History by The British Society of Perfumers/£30 including UK delivery.
Written by Suzy Nightingale