New research shows car scents could even play a role in keeping drivers alert and preventing accidents…
Anyone who's stepped into an Uber with a particularly pungent smell – either thanks to the novelty-shaped air freshener dangling from the mirror, or perhaps the previous occupant's on-the-go lunch or personal hygiene regime – will be aware how imporant car smells can be: for passenger and driver alike. Now, a new study shows those car scents could, in fact, help save lives.
Experts at the
University of Sussex
exposed drivers during the test to rose, lemon, and civet – measuring their responses to each. The experiment was performed in a simulated driving rig, with scientists having connected a spraying device to the center of the steering wheel, which released a fragrance when the test vehicle approached any danger, such as an unpredictable driver on the road, or cyclist ahead of them.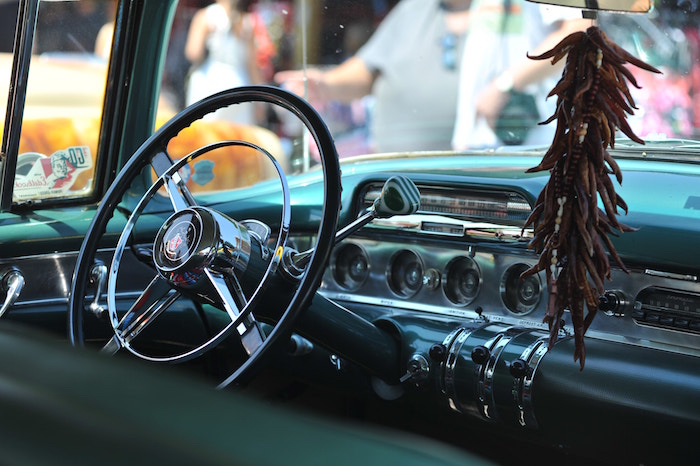 Apparently, the study revealed that a waft of rose reduced simulated car crashes by an incredible 64 percent, and the musky smell of civet was also found to reduce the number of accidents, this time by 46 percent. All in-car scents can help keep drivers alert to dangers around them, but these two proved the most effective by far – something to keep in mind when choosing your next car-diffusing fragrance, perhaps?
Luckily, when reaching for a scent to keep your car fresh (and your senses awake) times have moved on from the inevitable traffic-light and tree-shaped mirror swingers – now fine fragrance brands have produced fabulous looking diffusers that more resemble ornaments than functional items: you'll definitely want to keep these on display and topped-up with your favourite fragrances…
The Un Air de Diptyque car diffuser looks resembles an Art Deco radio, using an innovative system of cold diffusion to waft your chosen fragrance. Simply attach to the car ventilation to diffuse one of seven iconic scents: Baies, Ambre, Figuier, Roses, Orange Blossom, Ginger and 34.
Un Air de Diptyque £45 – cartridges sold separately.
Looking for all the world like heirloom pocket watches, these stunningly engineered diffusers have interchangeable scents to be paired with the pomanders and mood (and journey) dictates. 'Along the Plain of Castelluccio' whisks you 'Alongside a mosaic of flowering ochre, violet and vermilion, no Grand Tourer of Italy can remain immune to the bouquet of cypress and spring meadow lavender that rises up from the roadside…'
Charabanc Luxury Car Fragrance £145
DS & Durga now create niche fragrances for your travels – Big Sur After Rain incites freshness with 'rain water in eucalyptus groves off Highway 1,' Portable Fireplace invites cosy, homely vibes with birch tar, cedar and pine, while Holy Ficus invokes 'the revered fig tree of Siddhartha' with cardamom, fig and saffron. Each fragranced card comes in a scratch-and-sniff envelope, so feel free to scent your luggage, wardrobe and life in general.
DS & Durga Auto $10
Life is a journey, enjoy the ride with this car perfume based on the energising scent of sweet orange and cedarwood. The fragrance lasts up to 6-8 weeks and is activated by the air flow from your car's fan. The car perfume comes with a stylish wooden holder that can be reused when you purchase a perfume refill.
Rituals Life is a Journey Car Perfume, now £10
 By Suzy Nightingale