There's a plethora of British niche perfume houses to be excited about these days – how many have you heard of and got to try thus far…?
Niche-lovers have surely never been so well served as right now – there's a continuing bubble of enthusiasm in the rise and rise of niche perfume brands; and thrillingly, British houses are surging in popularity, much of it spread by word-of-mouth.
The personal recommendations are from hushed whispers of industry-insiders right through to fans declaring their love through social media. These houses are 'indies' (independently owned) and don't have access to huge marketing budgets; so we wanted to share and celebrate just some of those our noses are currently loving…
Holly Hutchinson founded Memoize London in 2016, but her heart started beating faster for fragrance far earlier – at the age of seven, to be precise. On her birthday, she was gifted her very first set of miniature perfumes… the way many of us are reeled in to the world of fragrance fever! Following a career at a prestigious perfume house, Holly branched out to create her own niche brand, believing that perfumes should evoke memories, so drawing on her own, such as 'a French holiday in the sun, a ride across the waves by boat, venturing through trees in a garden of ferns and Laurels…'
There's eight fragrances, currently, from the provocative, smoky passions of Era to the lazy Sunday morning of Tristitia, cocooning you in floral and vanilla scented sheets with an amber snuggle. One of our favourites has to be Superbia – created for self-confidence, encompassing rose bushes, the smell of a leather satchel and a mother's proud hug.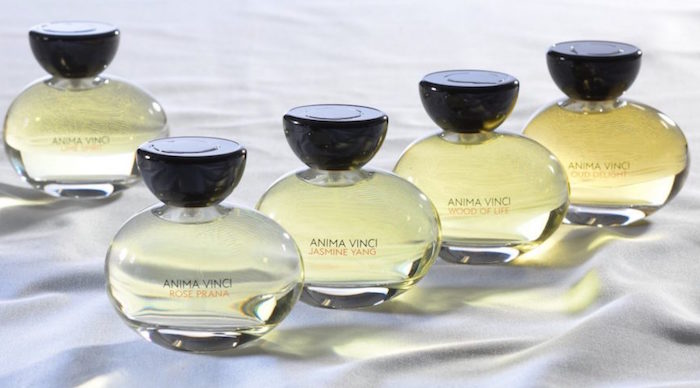 From the creative expression of one woman's strong belief in the power of fragrance and the positive effect it can have on your heart, mind and spirit, Anima Vinci was born. That insightful and passionate founder is Nathalie Vinciguerra, and her background as creative CEO of what many consider the first true 'niche' house, L'Artisan Parfumeur, along with British heritage house Penhaligon's, gave her great grounding (and the best contacts) in the business. 'Anima Vinci is the creative expression of my strong belief in the power of fragrance,' she says, 'and the positive effect it can have on your heart, mind and spirit. I believe that scents have the power to immerse us in the universe's energy and nature's beauty.'
With Rose Prana you're fully immersed in the rose fields of Grasse, smelling the earth below the bushes abundant with fresh, almost raspberry-scented Rose de Mai blooms, and a sense of the sky above. Jasmine Ylang is symbolic of divine hope with sandalwood and frangipani, a holiday for the soul; while Wood of Life is our go-to de-stress scent – a meditative whisper of mint atop sublimely smooth palo santo, sandalwood and vetiver. It's truly other-worldy and totally wonderful to wear.
With a green ethos that flows through every fragrance, Prosody London take equal delight in their scents being so beautifully composed, so harmoniously sophisticated, that many people don't even realise they are – gloriously, unashamedly – all natural and organic. Perfumer and founder Keshen Teo has worked tirelessly to ensure his scents have this aesthetic quality as well as the ethical purity they strive for. As he explains: 'The intrinsic complexity of naturals means you have to work hard to keep things well structured and balanced,' because it's vital the fragrances are stunning on first sniff. 'I like the challenge of this,' he smiles, going on to admit: 'We know that sometimes people buy Prosody London without even realising they're organic and 100% natural. I'm perfectly happy with that!'
Their voluptuously feminine Jacinth Jonquil entwines hyacinth with that mesmerising jonquil itself – think daffodils in sunshine, a crispness to the air like the first breath of spring, flecked with juniper berries and nestled on a softly woody base. Mocha Muscari uniquely blends the richness of coffee with a surprisingly seductive twist of mango, jasmine and lavender on a base of black agarwood and sandalwood, and Rose Rondeaux is decadently laden with fresh raspberry and juicy blackcurrant, dusted with iris and warmed with patchouli: all of them all-natural, and all-beautiful to wear.
Angela Flanders was a fragrant phenomenon: an woman with a life-long passion for perfume, who was still working – and creating beautiful scents – into her eighth decade. Now, through her daughter, Kate Evans, Angela's legacy endures… From her career as a television costumer designer to opening a store in the heart of the bustling Columbia Road market in 1982, the perfect restoration of a Victorian shop featured bowls of scented pot pourri made by Angela, beautiful fabrics and all manner of desirable things. The pot-pourri fragrances were so popular, customers begged her to make room scents and perfumes, and Angela's world soon became exclusively fragrant as her perfume selection grew notoriety – Precious One, an exquisite jasmine/tuberose that softens to a green chypre – winning a Fragrance Foundation Award for Best New Independent Fragrance in 2012.
From the golden tobacco and spice of Ambre Noire to the perfect white flower wedding fragrance of Bouquet D'Amour, Angela excelled at seamlessly blending precious ingredients. Now, inspired particularly by her mother's history with and love of fabrics, Kate uses those years spent at her side (learning the craft of perfumery and often advising) to continue their line of so-unique scents. Lawn captures the smell of crisp cotton sheets drying in a dewy floral-scented summer breeze, while the more recent Taffeta evokes decadence with heady hyacinth, soft iris and a fruity rose. What's more, it's up for another Fragrance Foundation award this year, so the family talent fully blooms.
Modernist Fragrance founder, John Evans, entered higher education, as he says, 'late and non-traditionally'. Embarking on what he calls 'an accidental corporate career', trying his hand as a successful novelist before finally settling on his sense of smell to guide him. 'My dad installed and restored wooden floors,' John recalls, 'early memories of fresh cut pine and newly sanded mahogany. Somewhere along the way these merge with the smells of church, incense especially, when I was an altar boy – capped off by a six week spell in hospital when I was five years old and all sorts of odours pervaded my life.' Travelling to Grasse, he immersed himself in the techniques of fine perfumery, painstakingly experimenting with building his own irreverantly mischevious compositions.
Designed to be genderless, they're inescapably memorable but never allow the integrity of the wearer's character to be compromised. So for The Modernist, expect succulent citrus, then greenness dripping with juice, freesia , a hazy flicker of dry frankincense and labdanum before a smoothly woody base. In Nihilism, get ready for a majestically bombastic rose that's up close and personal with icy aldehydes and a definite sense of a furry embrace in the bezoin base; and for Geist, lemon freshness is suffused by a seamless blend of honeysuckle, musk and gentle amber. Transformative and complex, utterly intriguing, these will all keep your nose hooked all day.
For the founder of Stories by Eliza Grace, Tonya Kidd-Beggs, being born into the heart of Northern Ireland's 'troubles', and struggling to come to terms with thinking about the future for her children, curated each blend's inspiration as a personal testament to the power of fragrance in her own life. And Tonya's own appreciation of fragrance began early. As she recalls: 'My grandmother's pearl necklace hung on my tiny neck and I rubbed one of her furs across my cheek. It was laced with Chanel No.5. I breathed in the scent of a woman I would never know. A courageous businessperson who paved the way for Northern Irish women to succeed in a male-dominated market place.' Named for her twin children (Eliza and Grace), inspired by precious memories, the fragrances feel remarkably like part of your own life as soon as you wear them.
Stories No.1 is all luminescence: bergamot, grapefruit and orange blossom leading to the deep, warm embrace of cedarwood, with delicate touches of jasmine, heliotrope and a fig-tea accord along the way. Ultimately, snugglesome amber swaddles sandalwood and the earthy cool of the so-grounding vetiver. For Stories No.2 Tonya drew on childhood memories of her grandparents' garden, and it evokes the exuberance of running barefoot on dew-flecked grass, exploring flowers face-first, curls of tobacco smoke exuding from a steamy greenhouse. So special, and so personally evocative to experience.
The worlds of whisky and fragrance have much in common, believes founder of Kingdom Scotland, Imogen Russon-Taylor. After a distinguished career in the aromatic world of Scotch whisky, Imogen has now gone on to create her own fragrance house – incredibly, the very first to be based in Scotland. Both whisky and perfume are produced by traditional distillation methods,' she explains. Both evoke a complex sensory experience and both rely upon the innovative use of ingredients or flavours to distinguish themselves from competitors.' And thus was born her vision to 'bottle Scotland' – using perfume to share old narratives in brave new ways, tapping into the rich stories associated with perfume and natural ingredients in Scotland.
Composed in a thoughtfully contemporary way, they unfurl as fragrant tales alive with possibility. Gusting with outdoorsy botanicals and fresh bergamot, in Portal verdant florals rest on a forest floor of shady vetiver and soul-soothing aromatic pine; while for Albaura the landscape's conjured through the freshness of snow and ice, blended with berries and botanicals in a scent that is bold, fresh and independent in spirit. Metamorphic's geology is composed by black pepper, tobacco, incense, minerals and rose absolute infused with a splash of whisky and amber-rich leather. Before long, Kingdom Scotland will be a fragrance name on the lips of perfumistas-in-the-know, far beyond that country's borders…
We like to offer as many opportunities to try new niche brands as possible, and are aware that (unless you live within walking distance of a niche perfumery) it can be really difficult to try samples for yourself. That's why we offer the chance to explore these houses through their own Discovery Sets in our online shop,  – a selection of niche brands we think deserve to be celebrated and available for everyone to try.
We also love to bring you our own, carefully curated niche selections, and you can try samples from all these British brands mentioned in our Niche Collection II Discovery Box, so we invite you to test their fragrant wares at your own leisure.
If you love niche, here's a teaser to keep your eyes peeled and your nostrils primed, as we have a VERY exciting and ultra-exclusive Limited Edition Niche Discovery Box worth OVER £75 (but costing you FAR less!) coming your way TOMORROW (Friday 26 April)… It's expected to sell-out quickly, so do be sure to grab yours ASAP.