My first encounter with Bal à Versailles occurred in the local antique market. My fingers fastened around a little satin-lined snap-shut case that looked designed for a bejewelled bracelet, but in fact housed a small glass bottle of perfume decorated with an 18th Century-esque illustration of a rosy-cheeked young lady holding a bouquet of flowers.
I fell for Bal à Versailles because I was head over heels in love with all things romantically antique. To me it seemed to be history, bottled – the scent of an aristocratic candlelit ball, the 'Language of Fans', of a past I read about constantly in Georgette Heyer novels and yearned to be a part of. There was much heaving of bosom and dramatic 'fainting' fits on the chaise lounge (well, the sofa) 'round our way, I can tell you.
Later, in a more considered review, I described Bal à Versailles as '… not so much a fragrance of candlelit coquettishness and smiling behind lace fans… this is a powdered courtesan romping on a dining room table that has been freshly polished with beeswax.' Which sounds something of a health and safety hazzard, now I come to think of it.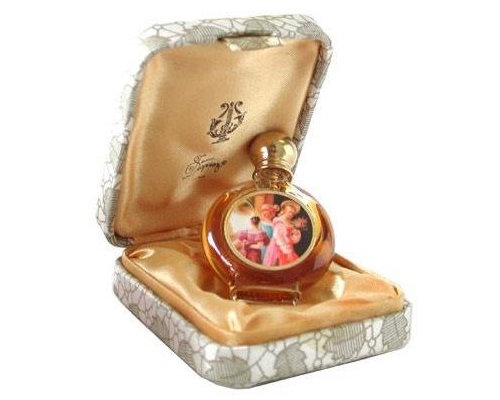 Let's just say I was rather enamoured, then, with this heady amber juice with a chequered history – going through periods of revival and then becoming increasingly difficult to find –  and now avid fans of Bal à Versailles will be thrilled to hear it's available to buy once more at Roullier White.
Roullier White say: 'Bal à Versailles by Jean Desprez is one of the world's most iconic and sought after fragrances. As popular today as it was from its inception in 1962, Bal à Versailles continues to be worn by a vast array of actors, movie stars and royalty. With exquisite packaging that calls to mind the decadent aesthetic ideals of la belle époque, this is an exquisite scent that exemplifies Desprez's motto: "perfume is a work of art!" Said to be composed of over 300 unique ingredients, the fragrance itself is incredibly rich and multi faceted, as opulent as the Hall of Mirrors itself. Considered by many to be the apex of classic French floral ambrée scents, we are are thrilled to once again stock this outstanding perfume after two years out of production.'
And did you know it was purportedly (so his personal makeup artist says) the signature scent of none other than Michael Jackson…? Yes, really! Read on for more on the history of this remarkable shadowy scent…
Jean Desprez was born into a dynasty of French perfume; being the great grand-son of Felix Millot he apprenticed with some of the most talented perfumers of the time, including the legendary Givaudan Marius and Reboul of Charadan. In 1922, aged just 24, he became the chief perfumer of the company Felix Millot.
In 1928 Desprez opened his own perfumery at 17 Rue de la Paix in Paris; recruiting artists such as the painter Paul Mergier who he put in charge of packaging, and sculptor Lon Leyritz who designed the bottles. True success can certainly be a long time coming, though, as it wasn't until 1962 his decadent creation finally took off.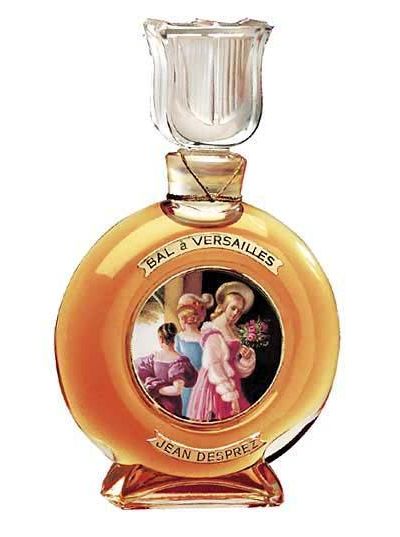 Fragrance notes for Bal à Versailles:
Top notes: rosemary, orange blossom, mandarin orange, cassia, jasmine, rose, neroli, bergamot, bulgarian rose, lemon
Heart notes: sandalwood, patchouli, lilac, orris root, vetiver, ylang-ylang, lily-of-the-valley, leather
Base notes: tolu balsam, amber, musk, benzoin, civet, vanilla, cedar, resins
Jean Desprez say: 'Bal à Versailles, meaning "ball at Versailles" the grand French palace of mirrors, is supposed to recall decadent, candlelit ballroom dances past at Versailles palace, with powdered ladies exuding aristocratic perspiration – a combination of flowers and musk. It has been described by many perfume reviewers as sexy, but not gaudy. Known as having a timeless allure modern fragrances never seem to carry, Bal à Versailles will forever be chic. However, its recent unexpected appearance indicate Bal à Versailles also has enticed a new generation of devotees…'
After his death, Michael Jackson's long term makeup artist, Karen Faye, finally revealed the one fragrance he adored above all others:
'Like music, our sense of smell activates our memories. Michael and I discovered (over thirty years ago) we shared a favorite scent. Those who were able to share the same space with Michael, Bal à Versailles, by Jean Desprez, will remind you of him…"
'Michael treated the bottles of this scent like gold. He was always so thrilled to have it. He loved the big fancy bottle, and he liked to carry the tiny little bottles in his pocket. He was wearing Black Orchid, but that was because it was easy to get. He switched immediately, when I found him 'BAV'. He would ask me everyday if it had arrived after I told him I had ordered it.'
'Michael and I shared the love of this scent before we even met. It was something we discovered about each other. It wasn't one of those perfumes you find at the department store, so I was always hunting for it for him. He was wearing 'BAV' in the last weeks of his life…'
An overdose of orange blossom and full-on amber bomb with a silage that wafts for hours, this isn't one for wallflowers to spritz on with abandon. But if you're looking for a modern-day 'vintage' with a come-hither glance and swaggering hips, this is the perfume equivalent of a slightly salacious novel that falls open right at the racy bits…


Jean Desprez Bal à Versailles £83 for 100ml eau de parfum
Buy it at Roullier White
Written by Suzy Nightingale