Think Colognes are only for summer splashes and searing heatwaves? Atelier Cologne's deeper twists on the classic will make you think again…
Having enjoyed the hottest summer on record in England (joint hottest for UK overall since 1976), there's no doubt we've all been reaching for those fresh fragrances to cool things down. The traditional Cologne is a thing of joy – but apart from the first splash, that joy could be fleeting, until Atelier Cologne took the best elements of the tradition and infused them with more complexity, depth and a hugely boosted lasting power.
This means we can enjoy all the benfits of their range well into the cooler months – good news for those already grieving the loss of summer and who perhaps need a spirit-reviving spritz before we get those opaque tights and cardis out of storage. Here's our guide to five Atelier Cologne fragrances you should try for an olfactory change of seasons…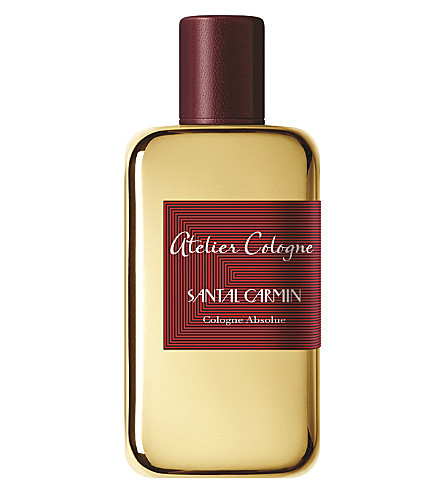 Top notes: Bergamot from Calabria, limette from Mexico, saffron from India
Heart notes: Sandalwood from New Caledonia, gaiac wood from India, white musk
Base notes: Papyrus from India, cedarwood from Texas, vanilla from Madagasca
Satisfyingly spicy without feeling too bundled-up already, the warm glow of saffron suffuses the zestiness of the opening like autumnal sunshine filtering through trees. Gorgeously layered woods with a wisp of soft musk and the tenderness of vanilla in the base feel like a late afternoon walk through the park.
Atelier Cologne Santal Carmin £160 for 100ml eau de parfum
Top notes: Calabrian bergamot, Sicilian mandarin, Guatemalan cardamom
Heart notes: rose oil, Indian tuberose, coffee
Base notes: Madagascan vanilla, cocoa pod
A unique blending of white floral and modern gourmand, the coffee really shines here, all toasty and delicious with a touch of cardamom and a swirl of milky vanilla and cocoa in the dry down. Think of those days it's still warm enough to grab a coffee outside, chic people-watching while devoring pastries.
Atelier Cologne Cafe Tuberosa £115 for 100ml Cologne absolue
Top notes: green mandarin from Italy, Sicilian bergamot, tajetes from Egypt
Heart notes: orchid nigritella rubra, cinnamon from Sri Lanka, benzoin from Thailand
Base notes: cistus labdanum from Spain, amber, tonka bean from Brazil
A little tip-toe into snugglier scents, this amber benefits from the fresh breeziness of the green mandarin as a welcome change from your usual citrus. Gentle spices never feel dusty, bringing a sense of comfort to the richer notes, instead, and adding a real spring in your step as chillier weather sets in.
Atelier Cologne Ambre Nue £115 for 100ml Cologne absolue
Top notes: bergamot from Calabria, orange flower from Morocco, black pepper from Vietnam
Heart notes: iris from Morocco, lavender from Provence, rose centifolia from Grasse
Base notes: Gaiac wood from Central America, patchouli from Indonesia, white musk accord
Just the most whisper-soft embrace of cashmere-like fluffiness and a pretty bouquet proffered throughout the composition, imagine the sigh of contentment while wearing your favourite suede jacket and shopping at the flower market. The woody-musk base feels reassuring, a scented hug to last all day.
Atelier Cologne Iris Rebelle £165 for 100ml Cologne absolue
Exclusive to Selfridges
Top notes: bergamot from Calabria, ginger from China, Turkish rose essence
Heart notes: Turkish rose absolue, incense from Somalia, velvet oud accord
Base notes: patchouli from Indonesia, papyrus from India, benzoin from Laos
Those of you not yet ready to let go of your roses (and we count ourselves among you!) fear not – here's an opulent plunge into the more sensual side that flower. We're especially loving the textural richness added by a drift of incense and smooth oud accord, a fragrant trail you'll love all day and after sunset.
Try Atelier Cologne at selfridges.com or in their stand-alone Covent Garden boutique.
Written by Suzy Nightingale