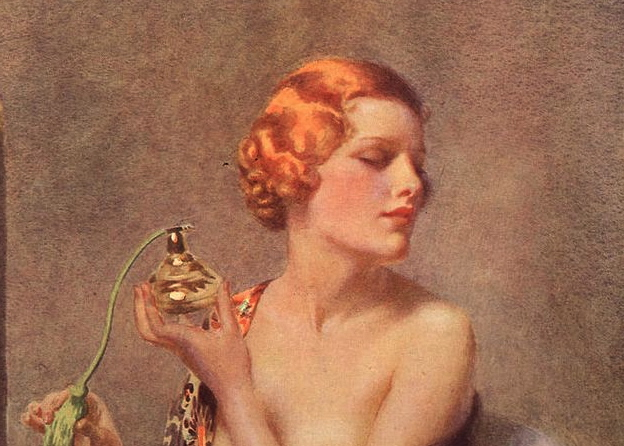 At the start of the 30s, belts may have been tightened – but perfume was a luxury many women clung to. The Stock Market crash on Wall Street in 1929 kickstarted the Great Depression in the US – but perhaps as an antidote to that doom and gloom, the fragrances launched now seemed to offer hope, and positivity, and
embody thoughts of love:  Jean Patou's so-romantic Joy, targeted at the Americans who couldn't stretch to the couturier's glamorous gowns and daywear, but could perhaps indulge themselves by dabbing a drop or two of a jasmine-and-rose-rich fragrance behind their ears.  Je Reviens ('I'm coming back') was launched by Worth – another Parisian designer – in 1932, and so cementing the linkbetween fashion and perfumery which endures to this day.
And then came possibly the sexiest scent yet created.  Dana's Tabu really did break with taboos:  it was overtly sensual, growling with patchouli, carnation and vanilla – ingredients familiar from Guerlain perfumes, but with the animalic smoulder seriously ramped up here.  The Spanish fragance house really put itself on the global scent-map with Tabu, swiftly followed by Twenty Carats, in 1933 – the closest many were going to get to a diamond, in tricky financial times.  By now, there was a very definite line between masculine and feminine scents;  successful men's launches included Caron Pour Un Homme (1934), and the very first spicy Ambrée fragrance for men, Old Spice (1938).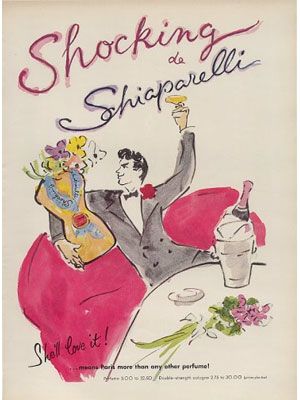 It was an eccentric designer – Elsa Schiapirelli – who put colour back into a pretty lacklusre era in perfumery. Elsa Schiaparelli added a Surrealist touch to fashion:  shoe-shaped hats, lobster dresses, insect necklaces, extravagantly embroidered jackets – and an actual colour 'Shocking pink', a hotter and more vibrant pink than fashion had seen till now, which she chose 'for the name of her first signature perfume. To quote from her biography Shocking Life 'The colour flashed in front of my eyes.  Bright, impossible, impudent, becoming, life-giving, like all the light and the birds and the fish in the world put together, a colour of China and Peru but not of the West – a shocking colour, pure and undiluted.' With its bottle based on Mae West's curves, Shocking was advertised with imagery from Schiap's Surrealist artist friends Salvador Dali and Marcel Vertes.  Europe was in the midst of some dark times, a the moment of Shocking's launch:  the rise of Fascism, deepening economic woes, and political upheaval that would change not only lives but the very map of the world, as the decade closed.  But Shocking, like Schiaparelli's fashion, offered a momentary escape:  bursting with sparkling aldehydes, but with a sexy fusion of jasmine, roses and ylang-ylang at the heart, and raunchy dollops of civet, sandalwood and incense.  Pure femme fatale…
Then came the start of World War II – and difficult days for the luxury industry.    Life was precarious, and minds preoccupied.  Yet somehow – perhaps reflecting perfume's ability to lift us up when we're down, to make us – with just a dab or a spritz – feel a little better about life, there were some landmark fragrances created against this turbulent backdrop. Many designers (including Chanel) closed their couture houses, but some bold perfume brands decided to unveil new projects in Wartime.  Houbigant launched Chantilly, in 1941, and Piguet unveiled green, galbanum-rich Bandit in 1944.  (The legend goes that perfumer Germaine Cellier drew her inspiration from – yes! – the aroma of the underwear worn by models during Piguet's fashion shows…!)
The most famous Wartime launch of all was Femme de Rochas.  Edmond Roudnitska, its renowned perfumer, recalls:  'Let me tell you, I created Femme in 1943 in Paris during the worst days of the war in a building that had a rubbish dump on one side and paint factory on the other.' Somehow, he found the inspiration to layer voluptuous accords one on top of another:  amber, oakmoss and patchouli, sweet touches of plum, amber, oakmoss and sandalwood, creating a sublime and enduring chypre.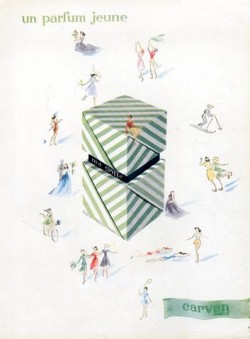 Carven's Ma Griffe was launched by parachuting tiny samples of scent over Paris.  Carven – read more about her here – showed real marketing savvy for the unveiling of her chypre in 1946 – and for the first time, this perfume specifically targeted younger women. Already a darling of the couture set, Carven hired a small plane to fly over Paris and drop thousands of tiny green and white parachutes (the perfume box's colours), each with a cargo of a sample of the fragrance. Parisians were stunned, and a massive traffic jam created.  It was a symbolic moment, indicating to a war-battered community that France, luxury and the perfume industry were firmly back on track.
As peace was restored, the world was desperately hungry for glamour – and in 1947, Dior introduced his 'New Look', revolutionising fashion. With fabric rationed or just plain hard to get during Wartime, silhouettes had been slimmed down. Then overnight, in February 1947, Dior made every woman's wardrobe appear instantly dowdy and old-fashioned, with his headline-grabbing New Look:  sweeping skirts, tiny waists, bare shoulder – and glamour all the way. Building on that success, Dior launched a fragrance that went on to enjoy phenomenal success:  Miss Dior, an opulent chypre confected in the hills above Grasse by Edmond Roudnitska – a busy, busy perfumer who worked on so many 'landmark' scents, in his time…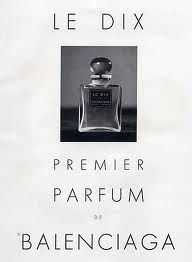 And so began a glorious revival in perfumery, which continued to be influenced by the world of haute couture.  Balmain's Vent Vert: so green, packed with galbanum, so bracingly outdoorsy.  Nina Ricci's L'Air du Temps:  so feminine, balancing jasmine and rose with vetiver, wintergreen and a spicy touch of carnation. Balenciaga's rich floral Le Dix, from the man considered by many to be the greatest designer of all. (Even Christian Dior referred to Cristobal Balenciaga as 'the father of us all…').
But across the Atlantic, an American woman and self-made businesswoman was about to turn the world of fragrance on its head. Click here to read about how an exotic bath oil changed how women shopped for fragrance – turning it into a pleasure for everyday, not just a dab for special occasions…