Penhaligon's opened their very first boutique in London's fashionable Jermyn Street in1872 and have since gone on to open locations spanning the globe – you can read all about their fascinating history on our page dedicated to Penhaligon's.
Instead of merely reproducing the same look in each store, Penhaligon's work with the history and location of each building, making sure to reflect differing aspects and using unique materials and interior decor for every single one. And now, we're delighted to take a sneak peek into their newly refurbished home in Covent Garden's Wellington Street...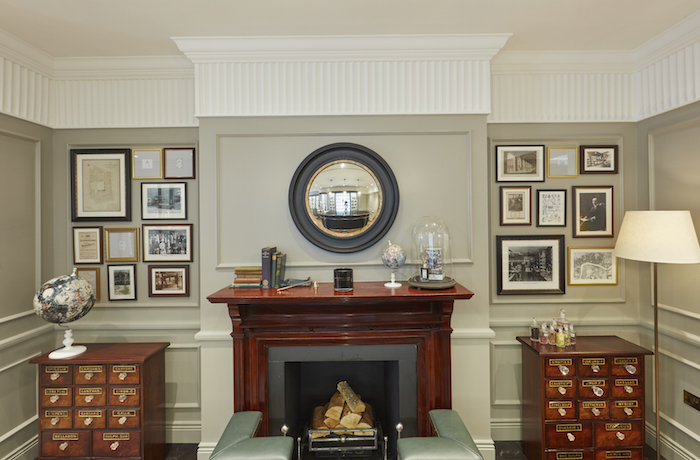 And you know, it really is just like walking into a home – albeit that of a fragrance fanatic! – with rich, gleaming wood floors, fixtures and finishes, and a supremely elegant style to the architecture. The space feels airy, yet with enough intimacy to ccomfortably explore the scents arrayed on the walls and a magnificent central display table.
We think there's a Gerogian-meets-contemporary vibe to the whole store – clean lines preventing clutter, and allowing the eye (and nose) to rest on everything there is to explore. And with the ever-gowing range of family members in the Penhaligon's fragrance wardrobe, you can be sure there's something fo all tastes – from the more modern scents of recent years in the Portraits collection, right through to the vintage archival fragrances they made their name by, and have made British perfumery famous for generations.
Many Penhaligon's store offer private Fragrance Profiling appointments, including Wellignton Street, where you will be asked a series of questions to match you to the perfect scent – a service they now offer online, too, for those not able to get to boutique – something many couples like to experience for their wedding fragrances, or to find a great gift for a loved one or mark a special occasion.
We love visiting perfumeries who make an effort to dress their spaces differently – gone are the days when everyone wanted idetikit, could-be-anywhere boutiques; and it's always lovely to have a relaxed atmosphere to soak up the scents, don't you agree?
Penhaligon's: 41 Wellington Street, Covent Garden, London, WC2E 7BN
By Suzy Nightingale