There are reportedly more women now joining the famous French perfumery school, ISIPCA, than men – an about-face for the time women in the perfume industry were either not employed at all, or remained somewhat faceless behind-the-scenes as their male peers were lauded as genius perfumers in gleaming white lab coats, then the respectable (and respected) face of fragrance.
The perfume world – and all fragrance fans – have many pioneering women to thank for the centuries they spent, tirelessly working their way to the top. So, for International Women's Day, here are just a few we'd like to put our hands together for, and whom we should all celebrate, not just today, but every single time we spritz…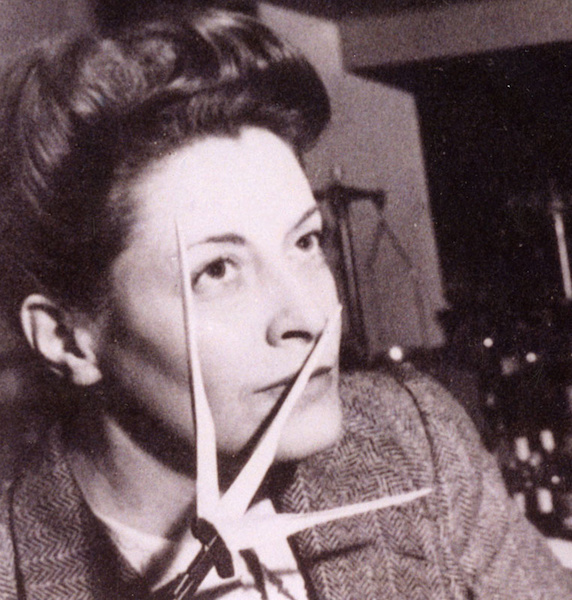 Germaine Cellier was a pioneering nose from the 1940s who created scandalously daring scents such as Balmain's Vent Vert – overdosed with galbanum and considered the first "green" perfume of its kind – and Robert Piguet's Fracas, a bombastic, room-filling, man-slaying tuberose. Cellier believed in doing her own thing, and as such it's often reported her male colleagues found her 'difficult to work with.' For 'difficult' read 'opinionated' and just wonder if those male colleagues were similarly chastised for daring to disagree. Here's to 'difficult women' everywhere.
Had she been male, or growing up in an age of equality, Patricia de Nicolai might have become the next generation of the Guerlain family's master perfumers (the title traditionally being passed from father to son). Undefeated, de Nicolaï has gone on to found an eponymous fragrance brand – Parfums de Nicolai – is a member of the technical committee of the French Society of Perfumers and now president of the prestigious Osmothèque scent archive. Having won the International prize for Young Perfumers (Prix International du jeune Parfumeur Créateur – Société Française des Parfumeurs) in 1988, her fragrance Number One garnered her the position of their first female laureate. Top that? She did. In 2008 going on to be decorated as a knight of the Chevalier de la Légion d'Honneur. It's fair to say de Nicolai is one of the all-time (if mainly still unsung) great perfumers.
Josephine Catapano is considered a mentor by many female perfumers working today, and when you read her list of accolades, it's not hard to see why. In 1980 Capatano was granted the Cosmetic Career Women's Award followed by a Lifetime Achievement Award by the American Society of Perfumers in 1993. Working during an era when perfumers were kept firmly within their labs, no names emblazoned on bottles, and most especially if they were female; creating the all-time classic Youth Dew for Estée Lauder, the original Shiseido Zen and Fidji for Guy Laroche; it is only now truly Catapano's name has even begun to be truly acknowledged.
There are certainly more historical female pioneers we should hoist the bunting for, but we'd also like to pay tribute to just a few of the contemporary noses who've risen in the ranks to become distinguished perfumers we follow the careers of with fascination, and much respect.
Sophie Labbé spent her childhood between Paris and the Charente-Maritime area of France, encountering contrasting smells: the odours of a capital city, against the scents of the countryside, living to the rhythm of grape-picking and harvesting, swept with a salty breeze… She studied at IPSICA, and at the Givaudan Perfumery School in Geneva for six months. In 1992 she joined IFF as a junior perfumer, and since then Sophie has worked on fragrances including Bulgari Jasmin Noir and Mon Jasmin Noir, Calvin Klein Beauty, Estée Lauder Pure White Linen, Salvatore Ferragamo Signorina and Signorina Eleganza. We asked whom she'd most loved to have created for. Her answer? 'Cleopatra – a powerful female figure whose legendary status is drenched in perfume!' And which, we wondered, was her favourite bottle of all the perfumes she's composed? 'Givenchy Organza, with its beautiful feminine, goddess like curves.'
Ruth Mastenbroek was born in England, spent some of her childhood in America, and graduated with a Chemistry degree from Oxford University. Having been classically trained in Grasse, she'd studied alongside brilliant perfumers such as Olivier Cresp, who created Angel, and Jacques Cavallier who created the Jean Paul Gaultier 'Classique' fragrance. In the late she 70s worked as a perfumer in the UK and Netherlands with Naarden International (which later became Quest and is now Givaudan – one of the largest perfume suppliers in the world…)Ruth worked in Japan and in the perfume capital Grasse before returning to England to work for a small company, where she created fragrances for up-and-coming brands like Kenneth Turner and Jo Malone – including her Grapefruit candle. Ruth set up her own perfumery company, Fragosmic Ltd., in 2003 – the year she became president of The British Society of Perfumers. In 2010 Ruth launched a capsule collection of scented products featuring her signature fragrance – RM – and also became the first perfumer to use advanced micro-encapsulation technology… in a scented bathrobe! Inspired by her travels, ingredients she grew up with and most of all by her seemingly tireless zest for life, Ruth's perfumes are shamelessly romantic, but still with a contemporary edge, and we're always thrilled (and proud!) to wear them.
'I didn't want to make perfume as a child; I wanted to be a witch,' says Sarah McCartney, founder and perfumer of the gloriously unconventional 4160 Tuesdays. 'I started to blend my own essential oil combinations after I joined Lush as a writer in 1996; I'd been dabbling from 1999 and started seriously making fragrances when I left in 2009.' The 'dabbling' as a hobby combined with her marketing experience, bag loads of energy (and bravery!) led to Sarah becoming an entirely self-taught perfumer with boundless imagination. Having written a novel about perfumes, readers asked if she could create the scents she'd invented, 'This turned out to be impossible – and pretty expensive – because no one was making exactly what I wanted, so I started another quest to see of I could make them instead.' And so she rolled up her sleeves and did just that. Her guilty pleasures include 'playing on the swings at the park [in fact, she's installed a swing at 4160 Tuesdays HQ, and invites visitors to have a go – did we mention unconventional?], red lipstick, watching Nashville, and drinking champagne…' Now winning acclaim the world over, Sarah still delights in having fun with fragrance, and in making scents that work the way she wants them to. Bravo.
From the first time she met a 'nose', that's what Christine Nagel knew she wanted to be. So she trained as a research chemist and market analyst, and in Paris, in 1997, was launched on a seriously distinguished career that's included creations like the blockbuster Narciso Rodriguez for Her (with Francis Kurkdjian), Jimmy Choo Flash and Guerlain's Les Elixirs Charnels collection. After several years at Jo Malone London, Christine joined Hermès, to work alongside the incredible perfumer, Jean-Claude Ellena. Strongly believing that fragrance should be genderless, she asserts that 'In reality, anyone can wear whatever he or she likes – even if the fragrance is supposedly "masculine" or "feminine". There's no right or wrong…' Her desire to 'pare down' fragrances chimes perfectly with Jean-Claude's, and she describes her scent style as 'characterised by simplicity, which mirrors their philosophy'. 'Favourite' notes go in cycles: 'I've phases when I'm deeply into a single type: woody, ambrée, green facets. It can turn almost into an obsession, until I have the feeling I've found what I'm looking for, and then I move on.' And move on she certainly did, for in 2016 it was announced that Nagel would now succeed the much-beloved Ellena. With enviable shoes to fill, she began not at a trot but full gallop – Galop (a stunning blend of leather and rose) proving a huge hit and ensuring the perfume world is on tenterhooks, and our noses are primed, for whatever she next creates…
For more female pioneers of perfume, read a selection of our exclusive 'working nose' interviews by searching for that term, above, or browse our perfumer interview archive – that just happens to be bursting with talented women, and which we're constantly adding others to.
And how shall we give thanks? Seek out some of the perfumes created by these women, or treat yourself to a new one by an up-and-coming star. Now there's an on-going reason to celebrate. Yaaas, sister! *fist-bump*
Written by Suzy Nightingale