To commemorate the Queen's Sapphire Jubilee year, Penhaligon's have released an exquisite, highly limited edition version of their classic Lily of the Valley perfume. Only 65 of the crystal bottles have been produced – one to mark each year since the Queen's accession to the throne in 1952.
The bows on every single bottle have been hand embroidered with a number, and the crystal bottle itself was created especially for Penhaligon's by British manufacturer Silver Tree Crystal. A perfume fit for a Queen of course comes at a suitably rich price, but a percentage of the proceeds from this product will go towards QEST (the Queen Elizabeth Scholarship Trust), the charity of the Royal Warrant Holders Association. QEST provides funds for the education of talented and aspiring craftspeople, thus sustaining traditional British craftsmanship.

Penhaligon's Queen's Sapphire Jubilee Lily of the Valley £650 for 225ml.
Available in select Penhaligon's boutiques and concessions.
Too rich for your (non-blue) blood? You could always pick up a regular bottle of the beautiful original Lily of Valley, which is available for the more pocket-friendly price of £97.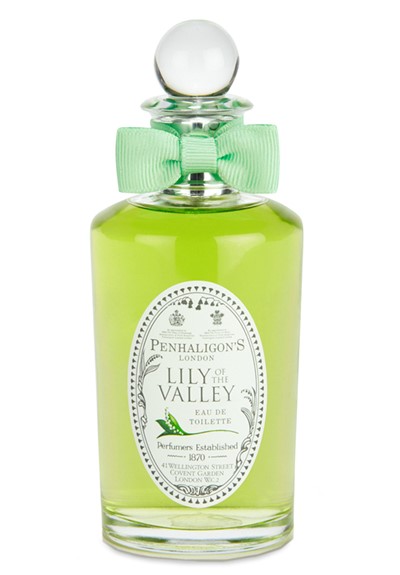 Penhaligon's say: 'The sweetness of this soliflore is first of all one of character. With the gentility (of experience) and the innocence (of youth) here is a flower that hangs its bells coyly, that delicately shares its perfume. But a soliflore made from a fine orchestration of notes. The opening is as fresh as May and as optimistic as Spring, geranium brings composure and stature to this citrus. As this imagined and romanticised creamy white flower continues to open its petals, rose, ylang ylang and jasmine release their scent. And because discretion is a virtue; one could almost be unaware of the sandalwood and oakmoss that give Lily of the Valley a timeless and forever finale. Royal wedding posies have taken note.'
Written by Suzy Nightingale