There are some perfume pilgrimages that have to be made in a lifetime – and a visit to Art Nouveau No. 68, Champs-Elysées truly is one of them.
It wasn't Guerlain's very first home – that was on the rue de Rivoli, where Pierre-François Guerlain opened a store selling imported vinegars, soaps, cosmetics and brushes alongside his own creams and eaux de Colognes – but Guerlain has been at No. 68 since 1914, when the wide, tree-lined street was Paris's most famous and beautiful boulevard.
Since then, the store has had several makeovers – including by Jean-Michel Franck, Andrée Putmann and most recently Peter Marino – but at the time of this last stunning update, it also expanded into a next-door space with a chic grey 'pop-up' store and a Guy Martin restaurant, Le 68, at the foot of a sweepingly elegant marble staircase in the basement.
Why go? Because there's so much from this celebrated French fragrance house that you won't find anywhere else. Because everyone needs to discover 'their' Guerlain perfume, at some time in their life. (It's a rite of passage for young Parisiennes, who are taken to La Masion by their mothers.) And because does anyone ever really need an excuse to go to Paris…?
Well, here are 10. Go to 68, Champs-Elysées for…
1. Scents you won't find anywhere outside Paris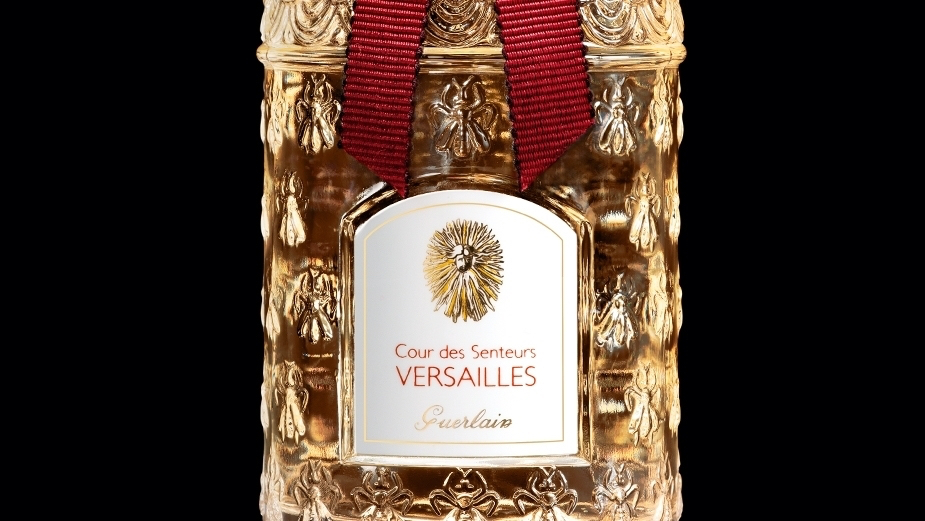 It's important to set aside time for this pilgrimage – because of the sheer volume of fragrances to smell, many of which are boutique exclusives. Find them on the stunning 'organ' in the centre of the main upstairs perfume gallery – but around that room, too: Les Elixirs Charnels (the so-sexy 'carnal elixirs') and L'Art et La Matière collections, the stunning Ambrée-Chypre Djedi and (our new favourite) Cour des Senteurs –Versailles: a gorgeously green-floral eau de toilette created by Thierry Wasser to celebrate the opening of Guerlain's boutique at The Sun King's royal palace. The so-so-pretty Les Parisiennes collection can also be found now in the UK – but there are many treasures new and old to be spritzed and splashed and wallowed in.
(Remember: label every blotter, or you'll never remember what's what. Even we can't and we do this for a living.)
2. Thierry Wasser's 'wall' of 'lost' Guerlain treasures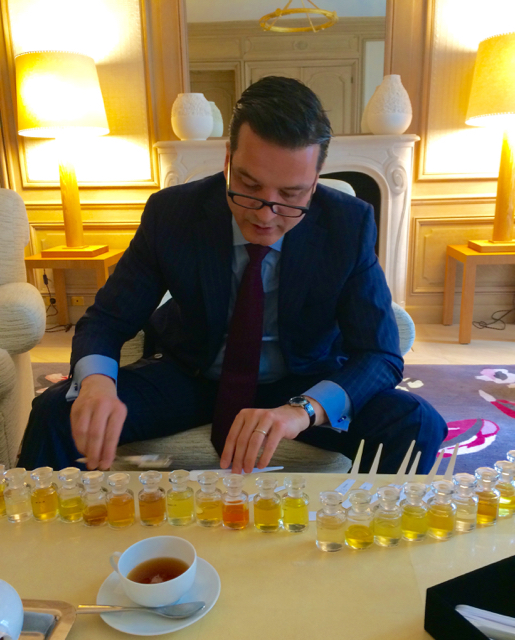 For his own education in the ways of Guerlain, Thierry Wasser has recreated more than 30 of the most celebrated discontinued creations of the perfume house – including the gloriously-named 'Pourquoi J'Aimais Rosine' ('that's why I loved Rosine', originally for the actress Sarah Bernhardt) to white floral Sillage, via Bouquet de Faunes, Coq d'Or and more. (Here he is showing them to us at a very, very special private smelling session.)
When Thierry arrived at Guerlain, it bothered him that the vintage bottles on display in the boutique contained nothing but browned dregs of the scents they'd once showcased – so he set about refilling them, immersing himself in the ways of Guerlain via this project. He worked, Thierry tells us, 'from the original Guerlain recipe books. It is quite something to be creating a perfume and seeing Aimé Guerlain's hand-written notes in the margin…'
These fragrances can't be sold, because they use the original materials – many of them now outlawed under EU fragrance guidelines. They can't even be tried, for the same reason. But you can admire the historic wall of scents, knowing that inside each antique bottle is a 'lost gem' – and dream…
3. The scented gloves
As readers of our VIP Subscriber magazine The Scented Letter already know, Thierry Wasser worked with tanners in St. Julien, near Limoges, to revive the art of scenting gloves, and with glovemaking experts Maison Agnelle. (Once upon a time the Parisian Guilds of perfumers and tanners were linked, and perfumery itself has its roots in scenting leather, used to cover the smell of the hides.'
The result is asmall white-trimmed 'scooped' black glove, tied with a bow, releasing wafts of black cherry, rose and patchouli with every gesture for La Petite Robe Noire, and the 'Gant de Perfumeur Mitsouko', which is milk chocolate-coloured, with a delicate studding detail, its leather infused with the scent of Mitsouko – chosen by Thierry himself as his 'perfumer's glove'. And these are just some of the beautiful items you can 'oooh' over in the accessories boutique upstairs…
4. Ribbons, bows and personalised bottles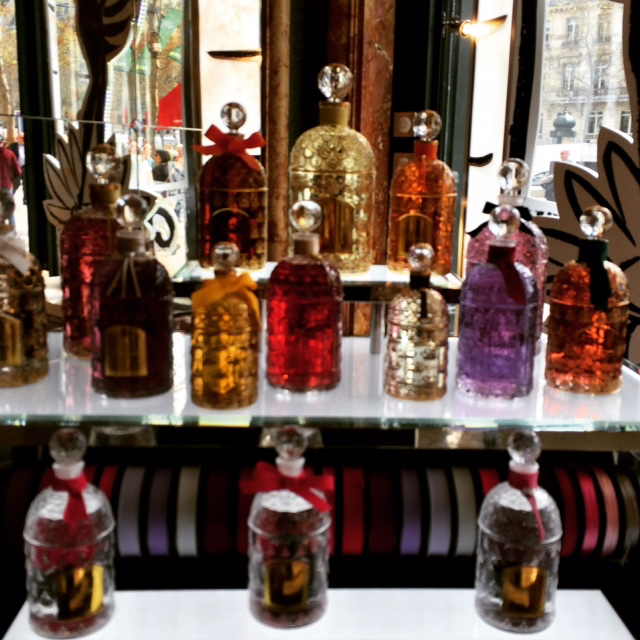 Oh, decisions, decisions: you can have many of the fragrances 'personalised', choosing a colour of glass for the gold-decorated bee bottle, and a stunning ribbon to decorate the neck.
5. The straw marquetry
What you'll notice everywhere (if you can peel yourself away from the fragrance testers at the Art Deco 'organ') are stunning details in La Maison, which has now been declared a 'historic site' – including the marquetry on the walls of the upstairs salon. Peer closely – they are made of straw, an ancient craft known as 'marqueterie de paille' – and marvel. (Do also keep an eye open for the historic zinc 'soap' container at the foot of the stairs to the First Floor.)
6. A Guy Martin cake
When your nose (and maybe your feet) get tired, there's only one thing for it: descend the sweeping staircase to Le 68 restaurant and treat yourself to a Guy Martin gateau (his Instagram is @chefguymartin and there are regular cake postings). As you might expect, much of the (seasonally updated) menu here places an emphasis on 'perfume' ingredients. When we were there in spring, it was a La Parisienne which delighted our nose and palette: chestnut cream, on a base of crunchy chocolate wafer, enveloped in a cloud of rose-flavoured Chantilly cream – oh, and with a few leaves of silver, as if that wasn't indulgence enough. Cancel dinner plans, and enjoy. Accompanied by…
7. and 8. Guerlain teas – and Guerlain honey!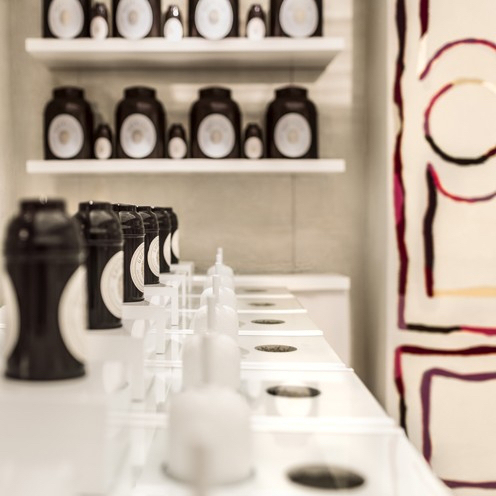 Heart-stoppingly expensive, for a tin of tea, yes – but you'll surely be keeping your PG Tips in the tin for evermore. We are particularly fond of the smoky Habit Rouge, L'Heure Bleu Oolong (evoking aromas of chestnut, honey and hints of white flowers), and Orchidée Impériale black tea, a real wake-up cuppa infused with the scent of the Ambrée orchid. Meanwhile from the same bees which provide the royal jelly for luxe Guerlain Abeille Royale skincare, buzzing around an eco-paradise of Ouessant, a UNESCO site off the coast of France, pictured here. (We were so over-excited we forgot to take a photo of the honey itself.)
9. Wedding fragrances
If you are getting married, there is probably nowhere lovelier in the world to find the scent you'll waft down the aisle in. Le Bouquet de la Mariée is one of several wonderfully cloud-like 'bridal' scents on offer, and the Guerlain consultants know their stuff better than almost any in the world, able to lead you by the (be-ringed) hand to a scent you'll fall in love with for your Big Day.
10. Guerlain postcards and stamps!
Who knew? Probably the boutique's most affordable souvenirs, but which perfume-lover that you know wouldn't thrill to a postcard featuring a Guerlain sunburst stamp…? And if you fancy sending us one to tell us about your visit, it'll find us at The Perfume Society, Liberty House, 222 Regent Street, London W1B 5TR.
And meanwhile, can we just wish you 'bon visite'…?
La Maison Guerlain, 68 Champs-Elysées, Paris 75008/Tel: +33 (0)1 45 62 52 57