It's hard to believe that on Wednesday night when we caught a preview of this department, the shelves were bare and the zig-zag carpet had disappeared under mountains of cardboard boxes. But the retail fairies worked their magic and the Second Floor fragrance and beauty department's long-awaited (and can we quietly say much-needed) makeover was complete. Overnight – literally – it has become an incredibly exciting, enticing space where we could while away countless hours. (We're rather proud to have been the very, very first people to spend money there, NB!) Huge congratulations to Jo Newton and her team.
We look forward to hosting plenty of events there for our VIP Subscribers. But meanwhile? Here are 10 excellent reasons why you need to get yourself an Awayday to Piccadilly, sometime very, very soon…
1. For the incredible, eye-popping 'perfume chandelier' (main pic) which greets you as you enter the department. (Though we're really glad not to be the ones who have to dust it!) From the moment you catch sight of this, though, you know this is somewhere really special…
2. To marvel at the Lalique table – current a-bloom with peonies, and the centrepiece of the perfumery department. Which is light, airy (there's daylight on two sides), with little 'nooks' where Fortnum's experts – grinning from ear to ear, NB, to be in their new 'home' – can steer you towards new scent loves.

3. For vintage treasures, showcased here and there – including antiques from British brand Grossmith (and of course, their current collection can be spritzed, sprayed and swooned over, too).

4. For Fortnum & Mason's own Bath Truffles – a treat for the post-Bath Bomb generation, for waters that swirl with lavender or rose. (Wonderful hostess gifts, we're thinking.)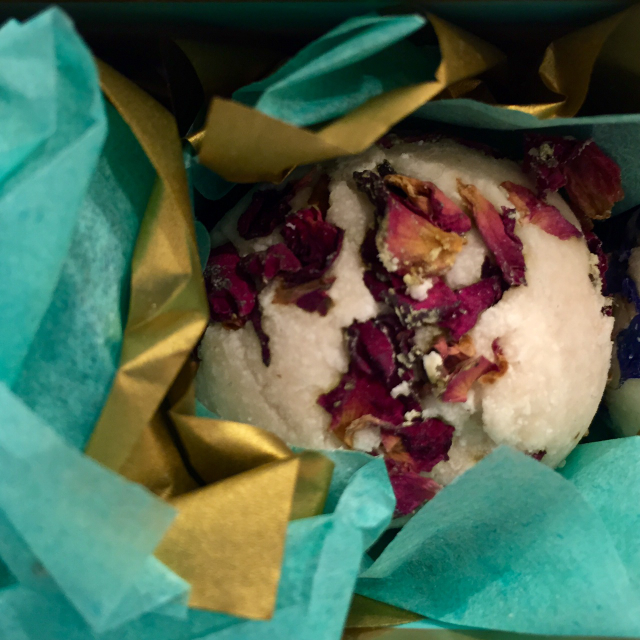 5. The 'niche fragrance' corner – we're pretty sure this is the first time Fortnum's has showcased a fragrance with a name like Tart's Boudoir (from – who else? – 4160 Tuesdays): just one of hundreds of fabulous cult fragrance finds. (As you can see, there's also a mini-Avery Perfumery. And did you realise you can scent the parrot, as an innovative way to fragrance the home…?)

6. Pierre Bourdon. Ah, Pierre Bourdon… Tucked away in a corner, find a collection from one of the greatest living 'noses', who studied with the legendary Edmond Roudnitska and Jean Carles, created fragrances from Davidoff Cool Water to Frederic Malle French Lover, and is a link with perfumery's greatest traditions. He retired in 2007 – but obviously hasn't just been staring at sunsets, as this collection shows. (Fin de l'Été is on our wishlist, with its luscious touches of ripe fruits…) We will hunt this man down, drag him off his sun-lounger and organise a Fortnum's event with him if it kills us!

7. Bamford Candles (as well as their skincare and bodycare, in the Beauty Hall) – gloriously English and outdoorsy (and with Lady B's signature understated chic). And coming soon, a full-service Bamford Spa. We're there, we're so there…

8. For the Roja Dove counter with its shimmering Lalique centrepiece – to sniff out the signature fragrance he's created for Fortnum & Mason, Taif Oud, with its jewelled cap in Fortnum's signature shade…

9. To check out Agraria's scented bath and body treats: from a San Francisco fragrance name that deserves to be better known. (Their Bitter Orange is one of our all-time favourite smells…)

10. To pick up your limited edition Collector's Number of Harper's Bazaar's May Edition, created specially to mark the opening of the department.

11. For the Edward Bawden screen, behind the beauty department cash desk – at the entrance to what will be the Bamford Spa. How beautiful is this? (The same design you'll see on the Harper's cover, above…)

Yes, we know that's 11 reasons. But there are actually thousands… Thousands! (And we've barely mentioned lipsticks and powder or skincare and aromatherapy…!)
And we look forward to returning, time and time again…
Fortnum & Mason, 181 Piccadilly, London W1A 1ER/020-7734 8040
Opening hours: 10am to 8 pm and midday to 6pm on Sunday